ISSN: 2309-6535 (online)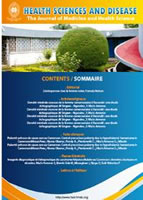 Health Sciences and Diseases is a peer reviewed medical journal that covers all aspects of medicine, pharmacy, biomedical and health sciences, including public health and societal issues. It is an "online first" publication, which means that all the publications articles appear on the website before being included in the eventual print journal. The papers are published in full on the website, with open access.
Our mission is to inform and educate all the health professionals and to promote constructive debate on health issues that matter in the management not only of diseases but of health as a whole. The HSD team is based in Yaounde (Cameroon).
Announcements
No announcements have been published.
Vol 21, No 2 (2020): Health Sciences and Diseases
Table of Contents
In this issue
About Health Sciences and Disease
Research Articles
| | |
| --- | --- |
| Prévalence de l'Antigène HBS chez les Personnes Infectées par le VIH à l'Hôpital de Jour de Donka (Guinée) | PDF (Français) |
| Djiba KABA, Mariama Sadjo DIALLO, Ramatoulaye BARRY, Mamady DIAKITE, Boh Fanta DIANE, Fatimata KEITA, Issiaga DIALLO, Mamadou Diouldé KANTE, Moussa SAVANE, Ouo Ouo Yaramon KOLIE, Ahmed Sékou KEITA, Mohamed CISSE | |
| | |
| --- | --- |
| Le Cancer de l'Œsophage à Bobo-Dioulasso (Burkina Faso): Aspects Épidémiologiques, Cliniques, Endoscopiques et Anatomopathologiques | PDF (Français) |
| Mâli KOURA, Ollo Roland SOME, Zanga Damien OUATTARA, P. Delphine NAPON-ZONGO, Valentin KONSEGRE, K. Sosthène SOMDA, Aboubacar COULIBALY, Nogogna ZOURE, Bétar Euloges KAMBOULE, C. Christiane BERE, N. Inès COMPAORE, Sandrine SOUDRE, Appolinaire SAWADOGO | |
| | |
| --- | --- |
| Profil Échocardiographique des Cardiopathies Congénitales chez les Nouveau- Nés et les Nourrissons à Douala | PDF (Français) |
| Felicité Kamdem, Diomède Noukeu, Ahmadou Musa Jingi, Eldad Afane Elono, Esther Barla, Christophe Akazong, Liliane Nemwa Tchiegang, Ruth Mouto, Prisca Megne Boudjeka, Patrick Eloumou Bissassa, Sidick Mouliom, Samuel Kingue | |
Medicine and Surgery in the Tropics
| | |
| --- | --- |
| Grossesses Non Suivies : Pronostic Maternel et Périnatal au Centre de Santé de Référence de la Commune V du District de Bamako | PDF |
| Alou Samake, SO Traore, Mamadou Keita, H Albachar, OM Traoré, M Diallo, M Konate, M Maiga, A Théra, RT Sangaré, D Camara, S Tall, E Sy, M Traoré | |
| | |
| --- | --- |
| Prise en Charge des Pré-Éclampsies Sévères en Postopératoire au Service de Réanimation du Centre Hospitalier Universitaire d'Owendo | PDF (Français) |
| Ervais Richard Obame, Nathan Ekegue, Boniface Sima Olé, Jean Fidèle N'Nang Essone, Arthur Matsanga, Lesly Vanessa Sagbo Ada, Marlène Mouguiama, Ingrid Mabame, Odilon Mounguengui, Aimé Vemba, Adrien Sima Zué | |
| | |
| --- | --- |
| Accidents Vasculaires Cérébraux dans le Service de Médecine de l'Hôpital Somine Dolo de Mopti, Mali | PDF (Français) |
| B Sonfo, S Sanogo, D Samake, CA Coulibaly, M Sako, L Sidibé, Y Camara, C Thiam, M Camara, S Sidibé, A K Traore, M Coulibaly, AS Traoré, S Coulibaly, I Diall, I Menta, B Diallo | |
| | |
| --- | --- |
| Le Cancer du Pancréas au Centre Hospitalier Universitaire Sourô SANOU de Bobo-Dioulasso (Burkina Faso) : Aspects Épidémiologiques, Diagnostiques et Thérapeutiques | PDF |
| Mali Koura, Passolguewindé Delphine Napon–Zongo, Ollo Rolland Somé, Danielle Belemsigri, Nogogna Zoure, Zanga Damien Ouattara, Euloges Kamboule, Sandrine Hema Soudre, Sosthène Somda, Aboubacar Coulibaly, Honoré Zougmore, Inoussa Zampou, Appolinaire Sawadogo | |
| | |
| --- | --- |
| Évaluation du Traitement de l'Hépatite Virale B par les Analogues Nucléotidiques à Brazzaville | PDF |
| C Ahoui Apendi, NA Itoua-Ngaporo, A Mongo-Onkouo, JF Mimiesse Monamou, L Ibara Kolo, F Bossali, RS Ngami, PE Itoudi Bignoumba, M Ngalessami Mouakosso, Deby Gassaye, BI Atipo Ibara, JR Ibara | |
Public Health
Case reports
Instructions to authors
This work is licensed under a
Creative Commons Attribution 3.0 License
.
********************************************************************************************