ISSN: 2309-6535 (online)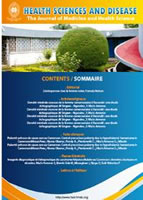 Health Sciences and Diseases is a peer reviewed medical journal that covers all aspects of medicine, pharmacy, biomedical and health sciences, including public health and societal issues. It is an "online first" publication, which means that all the publications articles appear on the website before being included in the eventual print journal. The papers are published in full on the website, with open access.
Our mission is to inform and educate all the health professionals and to promote constructive debate on health issues that matter in the management not only of diseases but of health as a whole. The HSD team is based in Yaounde (Cameroon).
Announcements
No announcements have been published.
Vol 20, No 3 (2019): Health Sciences and Diseases
Table of Contents
In this issue
About Health Sciences and Disease
In Memoriam
Research Articles
| | |
| --- | --- |
| Échec Thérapeutique, Résistance Acquise du VIH et Souches Virales chez les Adultes sous Traitement Antirétroviral de Deuxième Ligne au Cameroun: Étude sur 18 ans (1999-2017) de Monitorage à l'Hôpital Central de Yaoundé | PDF |
| Lutresse Thome, Serge Clotaire Billong, Calixte Ida Penda, Joseph Fokam, Désiré Akaba, Anne C. Zoung-Kanyi Bissek, Edith Bilounga, Ornella Kouanfack, Zépherin Tsomo, Charles Kouanfack, Alexis Ndjolo, Magloire Biwole Sida | |
| | |
| --- | --- |
| Étiologies des Convulsions Fébriles Chez l'Enfant de Un à 59 Mois dans le Service des Urgences Pédiatriques du CHU Gabriel Toure | PDF (Français) |
| Adama Dembélé, B Maïga, A Touré, B Traoré, ME Cissé, K Sacko, F Traoré, AK Doumbia, O Coulibaly, P Togo, D Konaté, A Diall, AA Diakité, M Sylla, F Dicko, B Togo, I Traoré, A Doumbia, A Coulibaly, BM Leyla, I Koné, I Ahamadou | |
| | |
| --- | --- |
| Panorama des Tumeurs Prostatiques dans le Service d'Urologie du CHU Point G | |
| ML Diakité, I Sissoko, HJG Berthé, M Kanté, MT Coulibaly, B Traoré, AS Diakité, D Cissé, S Diawara, D Sangaré, AD Tembely | |
Medicine and Surgery in the Tropics
| | |
| --- | --- |
| Devenir Obstétrical après Plicatures Utérines dans le Traitement de l'Hémorragie du Post –Partum Immédiat par Atonie Utérine : Une Étude de 81 Cas dans un Hôpital de Niveau 2 de Bamako- Mali. | PDF (Français) |
| Traoré SO, Ba Berthe, S Doumbia, A Samaké, J Koné, A Traoré, S Tall, RT Sangaré, OM Traoré, MA Traoré, M Diakité, I Teguete, Y Traoré, M Traoré | |
| | |
| --- | --- |
| Stérilisation Tubaire et Regrets dans un Hôpital du District Sanitaire de Bamako au Mali | PDF (Français) |
| Ba Berthe, Ba Berthe, A Samake, A Samake, SO Traoré, S Doumbia, S Doumbia, N Diakite, N Diakite, RT Sangare, RT Sangare, D Camara, D Camara, I Teguete, I Teguete, Y Traoré, Y Traoré, N Mounkoro, N Mounkoro, M Traoré, M Traoré | |
| | |
| --- | --- |
| Aspects Épidemiocliniques de la Malnutrition Aigüe Sévère chez les Enfants de Moins de Cinq Ans au CHU Gabriel Toure | PDF |
| Belco Maiga, H Diall, K Sacko, A Dembélé, F Traoré, AK Doumbia, Mohamed Cissé, D Konaté, FL Diakité, F Traoré, O Coulibaly, A Touré, I Traore, P Togo, L Maiga, A Doumbia, AA Diakité, F Dicko –Traore, M Sylla | |
| | |
| --- | --- |
| Aspects Bactériologiques, Thérapeutiques et Évolutifs des Infections de la Main chez le Diabétique à l'hôpital National de Niamey. | PDF (Français) |
| MA Mahamane Sani, C Yahaya, S Sani Harouna, ML Maazou, A Ali, S Brah, M Daou, A Dibrilla, M A Bade, E Adehossi, S Mamadou | |
| | |
| --- | --- |
| Sécurité Transfusionnelle et Défi Organisationnel de l'Approvisionnement en Sang à l'Hôpital Militaire de Yaoundé | PDF (Français) |
| Célestine C Nsi, Serge C Billong, Annick Ndoumba, George Bediang, Laetitia Boade, Larissa Ntsama, Jean-Claude N Katte, Brian Bongwong, Célestin Ayangma, Sandrine R Mendibi, Claude Tayou, Marie-José Essi | |
Public Health
Case reports
Instructions to authors
This work is licensed under a
Creative Commons Attribution 3.0 License
.
********************************************************************************************