ISSN: 2309-6535 (online)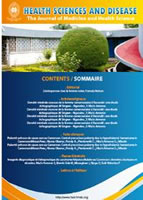 Health Sciences and Diseases is a peer reviewed medical journal that covers all aspects of medicine, pharmacy, biomedical and health sciences, including public health and societal issues. It is an "online first" publication, which means that all the publications articles appear on the website before being included in the eventual print journal. The papers are published in full on the website, with open access.
Our mission is to inform and educate all the health professionals and to promote constructive debate on health issues that matter in the management not only of diseases but of health as a whole. The HSD team is based in Yaounde (Cameroon).
Announcements
No announcements have been published.
Vol 18, No 3 (2017): Health Sciences and Diseases
The Journal of Medicine and Health Sciences
Table of Contents
In this issue
About Health Sciences and Disease
Research Articles
| | |
| --- | --- |
| Oncogenic Human Papillomavirus Genotypes 16 and 18 Prevalence Among Women with Normal Cervical Cytology and Neoplasia in Cameroon: A Systematic Review | PDF |
| Gilbert Ndeh Doh, George Mondinde Ikomey, Duncan Njenda, Josiah Gichana, Mary Grace Katusiime, Valantine Ngum Ndze, Michelle Zeier, Martha Mesembe, Charles Fokunang, Marie Claire Okomo Assoumou, Pierre-Marie Tebeu, Paul Adrien Atangana, Graeme Brendon Jacobs | |
Medicine and Surgery in the Tropics
Case reports
Instructions to authors
This work is licensed under a
Creative Commons Attribution 3.0 License
.
********************************************************************************************