ISSN: 2309-6535 (online)  1684-2782 (print version)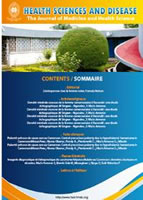 Health Sciences and Diseases is a peer reviewed medical journal that covers all aspects of medicine, pharmacy, biomedical and health sciences, including public health and societal issues. It is an "online first" publication, which means that all the publications articles appear on the website before being included in the print journal. The papers are published in full on the website, with open access.
Our mission is to inform and educate all the health professionals and to promote constructive debate on health issues that matter in the management not only of diseases but of health as a whole. The HSD team is based in Yaounde (Cameroon).
Announcements
Actuellement en ligne, un numéro spécial de HSD dédié à l'ophtalmologie, à l'issue du 23ème congrès de la Société Camerounaise d'Ophtalmologie

Le 23e congrès de la Société Camerounaise d'Ophtalmologie (SCO) a rassemblé à Douala du 23 au 25 Février 2017 plus d'une centaine de spécialistes issus de cinq pays africains. Autour du thème central qui portait sur la neuroophtalmologie, les participants ont eu accès à plus d'une douzaine de refreshing courses, ateliers et tables rondes, et à près d'une quarantaine de communications libres. Le numéro spécial dédié à ce congrès est actuellement en ligne.

Posted: 2017-06-08
Vol 18, No 2 Suppl (2017): Health Sciences and Diseases
SPECIAL ISSUE - OPHTALMOLOGY
Table of Contents
In this issue
About Health Sciences and Disease
News from the 23rd Congress of the CSO
Research Articles
| | |
| --- | --- |
| Vécu Psychologique et Social du Handicap par les Personnes Atteintes de Cécité à Parakou (Bénin) | PDF (Français) |
| RA Assavèdo Codjo, F Sylla, FPF Gbagonou, S Montéiro, S Alamou, F Tognon Tchégnonsi, YL Odoulami, I Sounouvou, P Gandaho, S Tchabi Hounnou, C Gbaguidi Doutetien | |
Case reports
Abstracts of the 23rd Congress of the CSO
Instructions to authors
This work is licensed under a
Creative Commons Attribution 3.0 License
.
********************************************************************************************